The Pink Journey Foundation
Breast Density
Overview:
A recently published study concluded that breast density "eclipses all other known breast cancer risk factors" (Ref. 1). A mammogram is required to determine a women's breast density status (Ref. 2-3). Sixty percent of women under the age of 50 have dense breasts. Early-stage breast cancers are more difficult to detect in women with dense breasts and breast cancers arising in dense breasts tend to be more aggressive than breast cancers arising in women with a fatty pattern on their mammograms (Ref. 4-6).
Why are breast cancers so difficult to detect in dense breasts?
Dense breasts are composed primarily of fibrous and glandular supportive tissue that appears white on the mammogram. Small breast cancers are also white on the mammogram. These small white cancers blend into the white background tissue. Detecting a small cancer in a woman with dense breasts is often compared to the challenge of detecting a snowman in a snowstorm.
Fatty breast tissue is black on the mammogram. Sixty percent of women over the age of 50 have a fatty mammographic pattern. It is relatively easy to detect a small white cancer in women with a fatty pattern on the mammogram. As a result, breast cancers in fatty breast tissue tend to be smaller when detected on the screening mammogram than are cancers detected in women with dense breasts (see figures 1 and 2 below).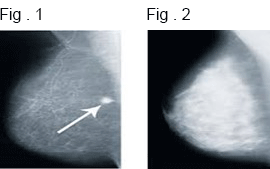 See figure 1 and figure 2 compare the challenge of detecting an early-stage breast cancers in a dense breast vs. a fatty breast. Figure one shows an obvious small cancer in a fatty breast. In contrast, figure 2 is an example of dense breast. The same cancer easily seen in the fatty breast would be extremely challenging to detect in the dense breast.
Screening Guidelines for Women with Dense Beasts:
We recommend that all women should undergo risk assessment in their twenties. Women who are determined to be at high risk based on their family histories should be referred to a risk assessment clinic (Risk Assessment).
We recommend that all women have a baseline mammogram by age 35. Women who are found to have dense breasts are recommended to have a yearly 3D mammogram (Ref. 7). We recommend that average risk women with dense breasts have a yearly screening breast ultrasound. Women at high risk are advised to have a yearly MRI in addition to their yearly screening mammogram (Summary of Breast Screening Guidelines).
Women who are found to have a primarily fatty pattern are given the option to delay their next yearly screening mammogram to age 40 and to continue yearly screening if in good health.
Questions? Contact Us.
References:
'Dense Breasts' Eclipse All Other Known Breast Cancer Risk Factors
https://www.ucsf.edu/news/2017/02/405711/dense-breasts-eclipse-all-other-known-breast-cancer-risk-factors
Dense Breasts: Answers to Commonly Asked Questions
https://www.cancer.gov/types/breast/breast-changes/dense-breasts
Dense breast tissue: What it means to have dense breasts
https://www.mayoclinic.org/tests-procedures/mammogram/in-depth/dense-breast-tissue/art-20123968
Breast Density and Your Mammogram Report
https://www.cancer.org/cancer/breast-cancer/screening-tests-and-early-detection/mammograms/breast-density-and-your-mammogram-report.html
Women With Dense Breasts Have Higher Risk of More Aggressive Cancer
https://www.breastcancer.org/research-news/20110801
Do Young Women Have Worse Breast Cancer Outcomes? It Seems to Depend on the Cancer's Characteristics
https://www.breastcancer.org/research-news/do-young-women-have-worse-outcomes
3D mammogram – Mayo Clinic
https://www.mayoclinic.org/tests-procedures/3d-mammogram/about/pac-20438708