Survivorship
Rolling with Hope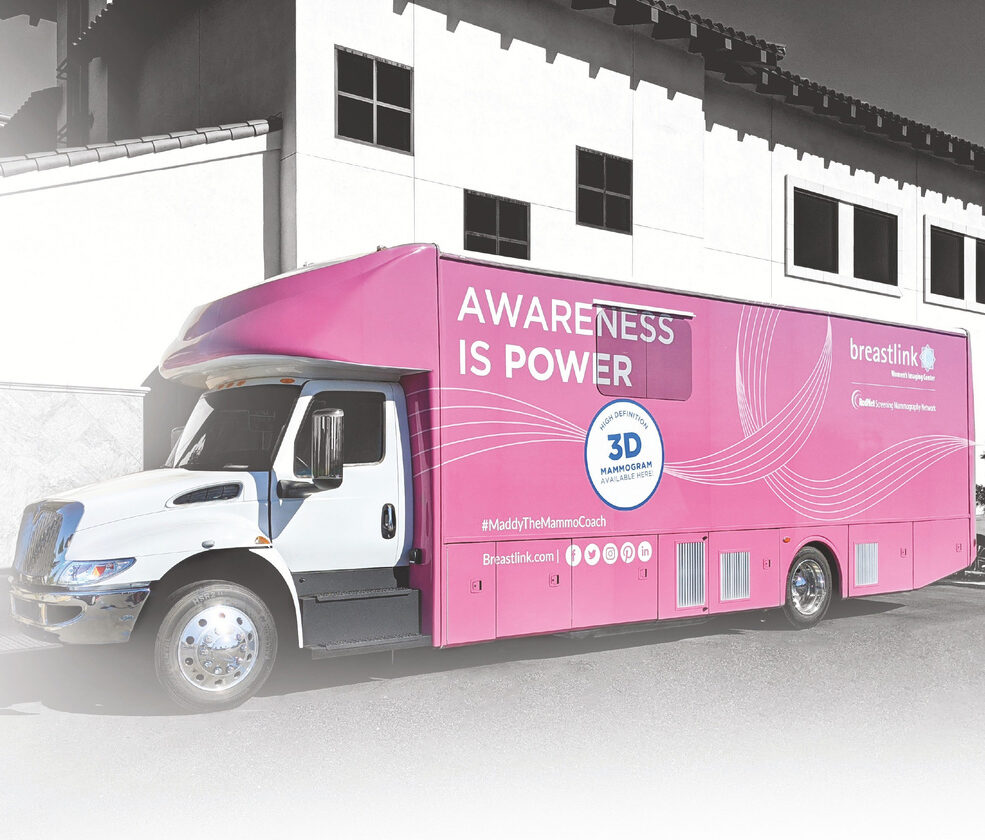 We are excited to announce our newest program, Rolling with Hope-Mobile Mammography for the Underserved. We will have the ability to provide no cost mammography to local communities by sending an innovative mobile coach with a radiologist and support staff, in partnership with RadNet, to local health fairs and events. 
The Rolling with Hope program is made possible by a generous Hologic grant and a partnership with RadNet Radiology/Imaging who believe in our mission to spread breast cancer education and basic screening mammography to our most needed populations. Our goal is to provide multiple screening events within each community. Ideally in 2023, we would like to bring Maddy the Mobile Mammogram Coach to multiple locations; and provide mammography's for individuals who would not normally have easy access because of financial, insurance or other barriers. 
We are here to provide no cost breast screenings and breast care for underserved communities with women who are uninsured or underinsured. Rolling with Hope has the ability to decrease the major gaps of late breast cancer detection leading to intensive treatment and consequently high mortality rates seen in disadvantaged and underserved populations. The impact of early screening can decrease mortality rates, reduce financial costs, and increase overall survivorship to an extraordinary 95%. It is imperative that we disseminate this information into often unknowing underserved, underinsured or uninsured populations.  
Please join us in saving lives!  
Getting to know Maddy the Mobile Mammogram Coach
​The coach is equipped with innovative artificial intelligence (AI) that is powered by Hologic technology. This AI allows for faster results and less likelihood of screening errors.

 

Results are mailed to individuals within 72 hours.

 

A RadNet radiologist and tech will be present for all screenings; thus ensuring the highest quality service and results to every person.

 

The coach has great accessibility because it can run off a generator or use shore power; and can easily be parked at different locations.

 

The coach has two dressing rooms for comfort.

 

Maddy first rolled onto the streets of California in September 2021.

 

This program was developed to provide screening mammograms in areas where women are not always able to obtain yearly screening.

The Coach is thirty six (36) feet long and ten (10) feet wide.

 

 
Maddy requires at least six (6) parking spaces on a "level" surface in order to function safely.

The coach is powered by an onboard generator or plug-in capability, if locations allow.

 

The coach is equipped with HOLOGIC HD 3D Clarity Mammography equipment, utilizing RadNet's proprietary artificial intelligence (AI).  This allows for less call-backs and less anxiety. Furthermore, studies have shown that AI technology in mammography has the potential to detect  breast cancer one to two years earlier than traditional screening mammography.

On board the coach, there is a small waiting area for 3-4 guests, a check-in station, and two changing rooms with a sizeable procedure room.

 
You can also request to have Maddy visit your location provided it meets the criteria, or you can be a community sponsor and your sponsorship will allow the mobile unit to visit an underserved community.